Add books
Now that you have joined or created a group, it is time to add some books that you want to lend to your friends. You can find the button to add books in a number of places, including the dropdown menu on the right side as well as on the home page when logged in. There are a few ways to add books. The first method is to use the form show below. All you need to do is to complete all the required fields.
Here are a few important things to remember when adding books: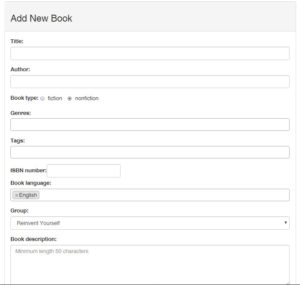 You can also bulk import books from a csv file using the form shown below. Just make sure the required headers (title,author,isbn,book_type,language) are present.